Risa Wellness Project@THEARC
Initiated in the fall of 2013 and launched in phases, the Risa Fund partnered with THEARC to create the Risa Wellness Project@THEARC, a multifaceted initiative offering mental health training to all partner organization staff, on-site mental health counseling, access to increased psychiatric care and coordination of all mental health services at THEARC. Taking a holistic approach to wellness, the Project also incorporates art, music and dance therapy.
When mental illness strikes families, access and quality of mental health care can still be a barrier. The Risa Fund and the leadership team at THEARC, with their foresight, embraced collaborating with Children's to support and expand their ongoing efforts of behavioral health integration into the pediatric medical home to reach every member at THEARC. This type of collaboration will have both a regional and a national impact on mental health services for children and adolescents and their families.
– Dr. Lisa Cullins, Director, Child and Adolescent Psychiatry Fellowship Training Program, and Director, Outpatient Psychiatry Clinic, Children's National Medical Center
Risa Wellness Project@THEARC Programs Include:
Mental Health "First Aid" Training
Mental Health "First Aid" training for all staff at THEARC. Evaluations from the first training were overwhelmingly positive, with 26 becoming certified. Ongoing trainings are currently being planned with the goal of training all on-site frontline staff and non-mental health professionals.
Full-time On-site Mental Health Providers
Mental health providers, consisting of child and adolescent psychiatrists and a licensed clinical social worker and psychologist, who provide comprehensive diagnostic assessments, individual and family therapy, medication management and psychoeducational testing to children and adolescents. Offered through the Children's National Health System: Children's Health Project of DC at THEARC.
Urban Farming
THEARC Farm (a project of Building Bridges Across the River) offers a variety of workshops, activities and special events on its urban farm that provide therapeutic relief in an outdoor setting. It provides the community with opportunities to access healthy affordable food and to participate in growing and harvesting its crops.
Arts Therapy
Reaching beyond barriers of social, communicative, and cognitive limitations, the following art therapy programs offer participants a means to develop skills that can be used in everyday life.
Dance: The Washington Ballet@THEARC offers a pre-professional ballet program for children ages four through 18 as well as the adult program with classes in Modern, Stretch, Zumba, Ballet and African dance.
Art: ArtReach, a year-round museum outreach program, empowers DC youth and families to explore and trust their own creativity within the context of art making and art history. Geared toward treating trauma and grief, it provides free arts instruction, such as after-school and summer art classes, and family workshops.
Music: Levine's Music Therapy program uses music as a tool to help individuals – from children to seniors – transform and improve the quality of their lives, while addressing each individual's unique emotional, physical, cognitive and social needs.
Underserved But Not Undervalued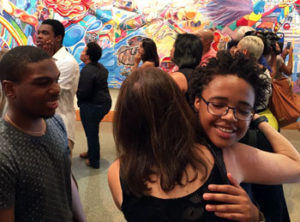 While many low-income families face significant challenges in real and specific areas, their importance and impact on their immediate and greater community should not be discounted or ignored. Every life has the potential for greatness. Every family has the potential for happiness and healing given the appropriate tools and resources. Today's child in crisis could be tomorrow's inspiration. Today's fractured family can be elevated from a position of helplessness to one of empowerment. We must combat the shame, stigma and silence surrounding mental illness by focusing on the needs of the entire individual and by providing a consistent and intentional level of care.
By providing much needed mental health assessments, awareness and resources early in a child's development the Risa Wellness Project@THEARC has the potential to effect change – and most importantly promise – for those with the greatest need. We hope you join us in our efforts to build happier and healthier families – one smile, one hug and one hope at a time.
---
About THEARC

The Town Hall Education Arts Recreation Campus (THEARC) is a 110,000 square-foot campus located east of the Anacostia River in Washington, DC's Ward 8. It is a home away from home for the many underserved children and adults of East of the River, enabling them to participate in dance classes, music instruction, fine arts, academics, continuing education, mentoring, tutoring, recreation, medical and dental care, and other services at a substantially reduced cost or no cost at all.
www.thearcdc.org